IP Camera Software for network cameras

---
Netcam Watcher Professional is the best value IP camera software. It's the easiest to use Digital Video Recorder (DVR) for IP Cameras. If you need to keep an eye on your home or business then our network camera software, Netcam Watcher is the answer. Works with a wide range of Network IP cameras from over 50 manufacturers.
Netcam Watcher is a full featured network camera recorder that includes motion detection, alarms, scheduling, disk space management, patrolling, remote access, multi-monitor support, image enhancement and more.
Wherever you happen to be - across town or on the other side of the world - with Netcam Watcher network camera recording software you can have 24/7 monitoring of your business, home or property from your PC.
We now sell a selection of Network Cameras (IP cameras) from ACTi, Panasonic, AXIS, Sanyo and Vivotek.
Netcam Watcher Network camera DVR works with a wide variety of cameras from over 50 manufacturers.

---
Some features of our network camera software:
1) Netcam Watcher network camera recording software can generate alarms when motion occurs, when it should not occur (for instance, in the dead of night). It can also generate alarms when cameras stop responding or go offline. It can also generate alarms when motion that should be continuous stops. Alarms can automatically enabled at certain time of the day, so you can fo example only enable alarms at night and on weekends.
---
2) Motion detection recording from multiple network cameras simultaneously. Record only the action that you want, saving hard disk space and making reviewing easier. You can also mask out areas where motion is expected (eg. traffic moving past your window)
---
3) Easy to use Scheduler. Program your recordings just like a normal VCR (if you remember those). Also you can program your Alarms and Patrolling by schedule.
---
4) Intelligent Patrolling. Network Cameras can move from one preset position to another pausing to see if there is any motion. If motion is detected, camera records until motion ceases. Requires pan/tilt camera with preset facility.
---
5) Remote Access from anywhere in the world. Remote Control acts like a remote console for Netcam Watcher allowing access over the internet. Netcam survellance from anywhere!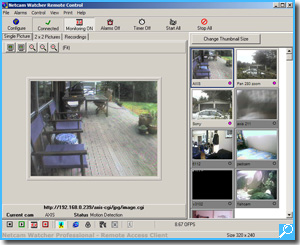 ---
6) Disk Space Management prevents your disk from filling up with network camera recorder. Netcam Watcher Professional can automatically remove old recordings, archiving them first if needed.
---
7) Built in or Stand-alone Player for IP camera recorder. Review recordings from inside the program or use the free stand alone player. Lets you display each frames timestamp to pinpoint the exact moment an event occurs.
---
8) Search recordings. See a graphical display of the Network camera DVR motion that had occured and jump to an event instantly.
---
9) Online / Hot Standby operation. You can configure Netcam Watcher IP camera recording software on two systems, one that operates as ONLINE system, and one the operates as STANDBY. The standby system monitors the online system, and if it notices that it has failed, it takes over. This function requires a separate licence for each system.
---
10) Non-motion detection : similar to motion detection, but detect when motion stops on your IP cameras.
---
11) Automatic Backup: Save configuration data and Netcam survellance recordings automatically at regular intervals.
---
12) Password Security: User and Admin level security lets you restrict operation and management functions.
---
13) Cambar. Lets you keep some or all of your cameras on screen at all time. Our network camera software is the only that has this feature. You can position it to be at any edge of the screen (e.g top, left ) or floating.
---
14) Reconfigurable Display: Resizable thumbnails panel on right hand side can be changed to allow you to see as many network cameras you like, any way you like.
---
15) Print Utility: Print multiple images per page, ideal for presenting evidence.
---
16) Convert Recordings to AVI: Standard AVI format can be played on your PC.
---
17) Image Enhancer: Bring out detail on your IP camera recorder when lightning is poor.
---
18) Resizable Thumbnails on right hand side can be changed to allow you to see as many cameras as you like on this network camera software, any way you like.
---
19) Free copy of AlwaysUp: Value $39.95. This award winning utility lets you run Netcam Watcher as a windows service, automatically starting the program after reboot. Also restarts if any problem occurs, or if anyone tries to stop the program. Learn more about AlwaysUp.

---