Wherever you happen to be - across town or anywhere in the world - with Netcam Watcher you can have 24/7 monitoring of the state of your business, home or property from your PC.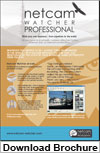 All you need is a network camera attached to the internet and a fast internet connection.
Netcam Watcher let's you check what's happening right now, and alert you when anything out of the ordinary happens.

Want to keep an eye on an office, building site or holiday home? Want to be alerted when goods on a conveyor belt are misaligned? What's happening down at the marina? Netcam Watcher can do it all, simply, automatically. Or you can take control. Anytime you want, check for yourself what's happening at the remote site. Pan, tilt and zoom the camera. Record everything if you like. Being digital, you can easily erase un-needed recordings, and quickly find events of interest.

Netcam Watcher at work
Getting home, business or property security protection is as simple as an internet connection.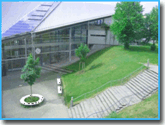 At school - Netcam Watcher and network cameras operate over the school's existing network (totally unused at night) to monitor school premises for vandalism and general security. If something happens over night, next day the log can be quickly scanned to identify when it occurred and clips sent to the authorities.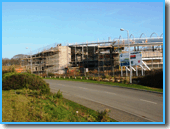 On a building site - A construction company uses Netcam Watcher to take snapshots of its construction site every 30 seconds so that it can keep track of progress over the life of the project. With this record the company can quickly look back over the project history to identify exactly when events occurred. At night, Netcam Watcher switches from monitor to motion detect and alarm, providing on the spot security.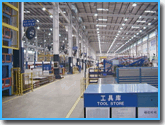 In a factory - Netcam Watcher sends an alert to the control room if anything falls out of line on conveyor belts in a highly automated factory. In this case Netcam Watcher's masking facility is used to mask out the production line itself so that the only areas monitored are those where nothing should be moving.


Netcam Watcher gives you control over your security
Keep an eye on as many cameras as you like on a single screen
Keep false alarms to a minimum by monitoring only areas of the image where no movements are expected
Record only actions and events rather than endless empty frames
Avoid getting called out of bed for nothing: set the amount of motion required before recording or alerting occurs.
Automatically switch from monitoring to motion detection and alarms according to a pre-set schedule.
Automatically receive a text message or email alert (and even an image) when an event occurs.
Record multiple streaming cameras all at once and at up to 30 frames per second.
Instantly jump to view a motion event simply by double-clicking on search results.
Pan/Tilt/Zoom the network camera from your desktop
Use image enhancer to improve poor quality or low light conditions.

Better than video
Uses industry standard computer cabling and the internet (no dedicated cabling; use network that's already available)
Easy growth from one camera to many, and simpler and cheaper to increase capacity- using standard PC technology
Better security using remote storage
More flexible and greater functionality
view, record and control net cameras from anywhere on the planet
Choose independent power source and wireless transmission if you need it
---
Now Download Netcam Watcher and try it!